June 10, 2017
9:00 pm
PDT
US Air Guitar Championships Hosted by 2013 National Champion Lt. Facemelter
$15.00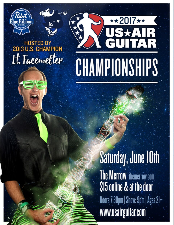 *** This event WILL sell out! Don't delay and buy today ***
This isn't your mom's basement. Check out larger than life characters and personas shredding for glory and a shot at the US Air Guitar National Championships. Also featuring:
- PLAY PLINKO TO WIN MERCH & PRIZES! -
- RAFFLE TICKETS & PRIZE GIVEAWAYS! -
- SUPER RAD AIR GUITAR SHIRTS! -
- DO YOU THINK YOU HAVE WHAT IT TAKES? -
Sign up and show us at usairguitar.com/entry. Every competitor gets a free beer!
US Air Guitar Championships Hosted by 2013 National Champion Lt. Facemelter

Other
About The Merrow
The Merrow takes its name from the Gaelic word for mermaid and merman. Like our name sake, The Merrow can be difficult to find — but when you do, you won't be displeased. We offer a wide range of cocktails and craft beer, with live music nightly.  Come join us and have a good time.